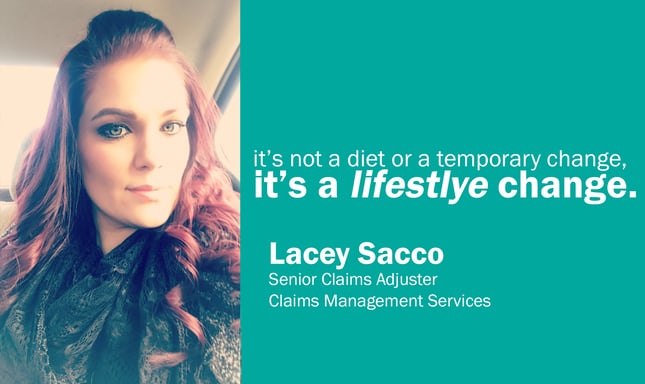 Q: Were there any big moments that lead you to make changes in your day to day life?
LS: Yes, I had two big moments last year right around the same time. My uncle, who we do CowaLUNGa for, he passed away in February and that was a sort of a realization for me that the things we do now affect us later in life. The month after that I turned 30 and had a minor midlife crisis. I just decided that I just wasn't going to live like this anymore and that I had to change something.
Q: How did you decide what changes to make?
LS: I started by seeing a Nutritionist actually. I found one on Groupon and decided to go with it. We put together a meal plan and I mainly focused on changing how I eat. I really did not do any extra working out, besides walking my dogs. I have recently started adding exercise to my regimen, though, now that I'm almost at my goal weight. One of the things that my nutritionist said that really hit home for me was that if you're a runner and you have half a bagel on the way to your morning run, you have to run for four hours straight to burn that bagel off. I don't love exercising like some people do. I decided it's easier to just not eat the bagel.
Q: Would you recommend that approach of going on a website, like Groupon, and just seeing what's out there?
LS: They have a lot of health related stuff at the beginning of the year to help with everyone's New Year resolutions. There are probably scams on there as well so you have be careful. Right now is a good time to look and see what's out there.
Q: Did you make any new resolutions?
LS: I'm continuing my resolutions. It's not something that to look at from a year to year basis, but it's a good reason to get started. It sounds cliché, but it really is a lifestyle change. I'm also getting married in August so that's keeping me very motivated. It's not something that I look at as a diet or a temporary change it's just something you change forever.
Q: Did you notice any changes you made impacting others?
LS: Yes! The claims team that work in St. Charles has been very good at keeping each other motivated and holding each other accountable. It's definitely catching on! I like to think some have seen my changes and hopefully it's motivating them as much as they are now motivating me. It's really turned into a group effort in our department which makes it so much easier.
Q: Was there anything your nutritionist said that really shocked you?
LS: The bagel thing really did it. I was very surprised to hear how big of a role that your diet plays in weight loss when compared to cardio exercise. Some of the simple tips he gave me were shocking in a "I can't believe I wasn't doing this already" way. For example, when you go to the grocery store, stick to the outside. You shouldn't have to go into the aisles for anything because that is all processed food. It's been sticking to protein and vegetables for the most part which is the outside perimeters of the store. Not going into the middle of the store makes it easier to grocery shop. You're in and out! I also like to buy those little $.89 bags of frozen vegetables from Aldi and just eat that for dinner.
Q: Did you have any specific goals when you started?
LS: I didn't want to set specific goals for myself. I just wanted to make the healthy changes and whatever happened as a result of that is what happened.
Q: Do you have any specific goals now?
LS: I've lost 60lbs now it's toning. It's my new goal. I have my gym membership. Every night I've got my free weights and my resistance bands just to do something. That's my goal: to do something every day.
Q: How did you motivate yourself into physical activity?
LS: My nutritionist had recommended to weigh yourself everyday so you can immediately see the immediate impacts of your bad decisions which does work. You eat that bagel and you're going to see an increase and that will motivate you to eat healthy. Motivation for physical activity has been harder to find because I don't love cardio but I do really like weight lifting. That is why I am challenging myself to do some kind of weightlifting activity every day. Muscle burns fat but it also weighs more than fat which means you can't always pay as much attention to the scale once you start doing weight exercises.
Q: How did you transition off the weighing yourself every day?
LS: When you have a good amount of weight to lose, small changes can make a big difference. The closer you get to your goal, the slower it seems to come off. When you hit your goal or get close to it, it becomes more about how you feel and how you look and less about the numbers on the scale.
Q: Were there any changes you noticed immediately after you started?
LS: The biggest thing was when I stopped drinking coffee. I gave it up completely. I am not one of those people who can just drink black coffee, I wish that I was. I would load it up with cream and sugar and had several cups a day. When I stopped, I noticed changes almost immediately.
Q: Was there any moment you realized all your small changes had led to a larger change?
LS: Yes, the biggest realization that i had was on Thanksgiving. I decided that I was going to have to do something to keep myself on track. It was the first time I pulled together a before and after photo of myself. I could see just how much I'd changed for the first time since I started in March. Seeing that photo kept me away from the dessert table the whole day on Thanksgiving.
Q: Transitioning back to before, how did you get involved in the CowaLUNGa Charity Bike Event?
LS: When my uncle was first diagnosed, my dad was just looking for something to do to help or get involved with the cause. The first year, he did it by himself on a mountain bike, which is definitely not the right kind bike for that activity. After the first year, my whole family decided to get involved and it's turned into this big crazy event. This year was obviously a huge year because we used his passing as a motivation to fundraise as much as we could. It got to the point where the Respiratory Health Association awarded our team for our efforts this year. It was such a cool experience to have.
Q: How do you continue to make time for your personal wellbeing even if you're stressed or busy?
LS: I find that when I'm stressed out that the weightlifting really helps. A lot of the other exercise that I do is walking my dogs. It's hard to be stressed out when you're walking them. You see those wagging tails and you can't be mad or upset.
Q: What kind of dogs do you have and what are their names?
LS: Both are 95lb lab mixes, Charlie and Murphy. We are big White Sox fans so Charlie is actually for Charles Comiskey and Murphy was named after the Goat. Sorry Cub's fans! You can't hate us now that you have a championship under your belt.
Q: What small habits would you suggest to your coworkers on how to stay active at work or at home?
LS: My favorite thing is the Fitbit reminder every hour to get up and moving. We have a tendency to sit all day and get sucked in to our work, especially in claims. We get emails all the time and the phone never stops ringing. I could go all day without standing up if I wanted to. That reminder it buzzes on your wrist, it's a nice thing to remind you to get up and take a lap around the office. We've been trying to do that more as a team.
Q: Do you listen to any music when you work out?
LS: Sometimes. If I'm watching TV I'll just do that. If I'm doing reps and sets and keeping track of that I'll listen to music to keep me on beat. I have Apple Music on my phone so I'll just pick out a work out playlist. I like finding new music that way.
Q: What are some of your favorite ways to relieve stress?
LS: I spend a lot of time with my dogs. I don't have kids, I have two giant lapdogs. It's so hard to be stressed when you get home. They know 5:30 is around the time I should be getting home and they are waiting for me in the window every day when I pull in. As soon as I walk in the door it's like the stress is gone. I've always had the ability to just separate work stress and home. I leave work here and I try to leave home at home as much as I can.
Q: Do you have any tips about wellbeing outside of just physical wellbeing?
LS: I think that the physical wellbeing does help the mental wellbeing. That was something that I noticed that was unexpected. As I started getting healthier, little things started becoming easier. I started sleeping better, too. That all affects you general wellbeing. You don't expect these little things to snowball but they do.
Q: What, if any, were the tools IPMG provided to you?
LS: I really love Virgin Pulse. I promise I'm not just saying that to suck up. I've used recipes from Zipongo app that I love. I've always had a terrible time just falling asleep and some of the tips from Virgin Pulse really made a difference. I like logging in every day to learn new tricks and tips. It's like a daily reminder to take care of yourself.
Q: What parts of Virgin Pulse did you find the most helpful?
LS: I love the cards and the recipes. I also love doing the challenges. I'm very competitive. If you ask my team that, they'll just laugh at you. But it is really a nice way to keep it fun.
Q: Do you feel that since you've found success in physical wellbeing it has translated to other aspects of your life?
LS: I think so. It's definitely made me a happier person and I have so much more energy now.
Q: What does your typical day of meals look like?
LS: Breakfast is usually whatever fruit I find in the coffee bar and some nuts. I used to go out for lunch every day which was expensive and unhealthy but now I try to snack lightly throughout the day and avoid a full lunch. Then I go home and have a healthy dinner. Every person is different, I don't want to advocate skipping lunch, and you should eat your three-square meals a day if that's what works best for you. It's more about the quality of the food you eat than the actual quantity.
Q: What has been the hardest part of your journey?
LS: I miss chocolate. In the beginning, I gave myself a cheat day and I would try to make it a weekend day because I knew that's when I'd crave the unhealthy stuff the most. But I would find myself waiting till Saturday and then I'd say, "well I waited this long why stop now?" So I found that even though I gave myself a cheat day, I would rarely use them. The biggest challenge has been not eating some of the foods I love. I'm Italian so I love bread and I love chocolate. I have a huge sweet tooth. But once you stop for so long, you actually stop missing it as much.
Q: What's been the easiest part?
LS: Looking in the mirror and buying new clothes! Once you start seeing the progress it just reassures that what you're doing is actually working. It's really the best motivation.
Q: Did you find your wedding dress?
LS: I did! I actually found it on Saturday! It was a big deal. I didn't want to shop for one until the weight was gone. So now I'm just trying to tone and get those Michele Obama arms.
Q: What is your favorite part about working at IPMG?
LS: I love how involved everyone is in everyone else's causes. I've always liked working for companies that get involved in charitable causes. I love the fact that everyone gives me the whole month of July to harass them for CowaLUNGA. To be able to be passionate about things you truly care about on top of coming to work every day makes things that much easier to get everyone involved. It lifts everybody up.
Q: Do you have a go to Slogan?
LS: Not really. When people have asked how I did it, I'll joke "if it makes me happy, I don't eat it." In all seriousness, I've really found some great recipes and I learned a lot much about cooking. So you can definitely eat healthy and actually enjoy the food at the same time.