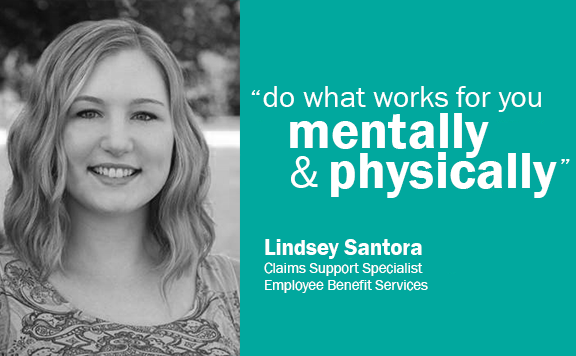 Q:What lead you to begin making small changes to your wellbeing?
LS: I started working here four years ago. Before this I worked on the sales floor at Target. I definitely gained weight when I switched to a sit-down job. I had to change the way I ate. I'm now more conscious of my portion sizes. I eat more greens and fruit. I lost 19 lbs. in the last two months.
Q: What do you consider mindful for eating?
LS: Portion control for sure. I make sure to eat lots of veggies every day. My first choice is broccoli. I drink water with every meal. My snacks are usually nuts, pretzels, fruit cups, or granola bars.
Q: How do you combat the idea that eating healthy has to be expensive?
LS: I shop at Walmart for my work lunches mostly so it's not hard to eat healthy and cheap. I usually Google healthy snacks.
Q: If you have a cheat day meal what is it?
LS: I like Portillo's every now and then. Usually I get a hot dog and small fry. Like a year ago I remember having McDonald's breakfast every morning. I got really sick of it after so many times and I knew it wasn't healthy. When it comes to cheat meals and eating out, I know I'm going to eat badly. But the great part of having a full-time job is creating a routine. Eating healthy is easier with a routine.
Q: Did you have any specific goals when you started?
LS: I did have the weight loss goal of 10 pounds. After I hit that 10-pound mark, I knew I could lose more and I've now lost 19 lbs.
Q: Do you have any specific goals now?
LS: Tone more. I haven't worked out in 4 months. I've heard weight loss is mostly food choice rather than how much you work out. I found that to be very true.
Q: Was there any moment you realized all your small changes had led to a larger change?
LS: It was the 19 lbs. lost overall. I started buying different healthy foods and portion each out. I want my body to start getting used to smaller portions.
Q: Were there any changes you noticed immediately?
LS: My skin. Di said to me that I was glowing. I knew it was because I was eating more fruits and veggies.
Q: How do you continue to make time for personal wellbeing even when you're stressed and/or busy?
LS: When it gets stressful, I get up and walk away from my desk for a little. Also, I'm mindful that healthy eating makes me feel better physically too.
Q: What small habits would you suggest to your coworkers on how to stay active at work or at home?
LS: We've got the gym. It's free so make the most of that. A gym membership can be costly especially if you don't go. Do what works for you mentally and physically.
Q: what are some of your favorite ways to relieve stress?
LS: Music. For whatever mood you're in. I like to walk if it's nice out. We see the same three walls of our cubicles every day so we need new scenery to keep our sanity.
Q: Do you have any tips about wellbeing outside of just physical wellbeing?
LS: Getting away from the desk if you need to. It's really stressful to look at the computer screen. Remind yourself [if there is a bad interaction on the phone], it's not you specifically they're upset with. Walk away for 5 minutes.
Q: What (if any) were the tools IPMG provided to assist you?
LS: The gym and the virgin pulse. Although my tracking in VP says yes yes yes, I'm doing them every day. Tracking my healthy habits has really helped.
Q: What parts of Virgin Pulse did you enjoy the most?
LS: Healthy Habit tracking.
Q: What parts of Virgin Pulse did you find most helpful?
LS: Money is always a driver. The recipes, I haven't made any yet but I will one day. They look delicious.
Q: What have you spent your Virgin Pulse earnings on?
LS: Paying off school with VP money.
Q: Do you feel since you've found success in personal wellbeing it has translated to success in other aspects of your life?
LS: Being in a better physical state has certainly made me feel better mentally. If you're healthy and look good, you feel good. It's a boost of confidence.
Q: What has been the hardest part of your journey?
LS: I like to feel full after a meal. Portion control is hard but I have to.
Q: What has been the easiest part?
LS: Seeing results and keeping that motivation going. Tracking with VP and the weight loss it's been tremendous.
Q: Do you have a wellbeing mantra?
LS: Results equal motivation and motivation equal results.
Q:What is your favorite part of working at IPMG?
LS: A lot of things. The team. It's easy to get through the workday when working with a great team. And Gregg is such a great person to work for. Always thinking about the employee's well-being.
Q: Any final thoughts or words of wisdom?
LS: I feel good these days. I'm going to keep using the virgin pulse app and it's going keep myself on track. Portion, portion, portion.